#d168excels - School Board Meeting - Monday, March 27, 2023 at 7:00 p.m. (Immediately following the Finance Committee Meeting starting at 6:30 p.m.) Join us in person or virtually. The meeting will be held at CCSD168, Administrative Center 21899 S. Torrence, Sauk Village, IL. Watch for a link to attend virtually.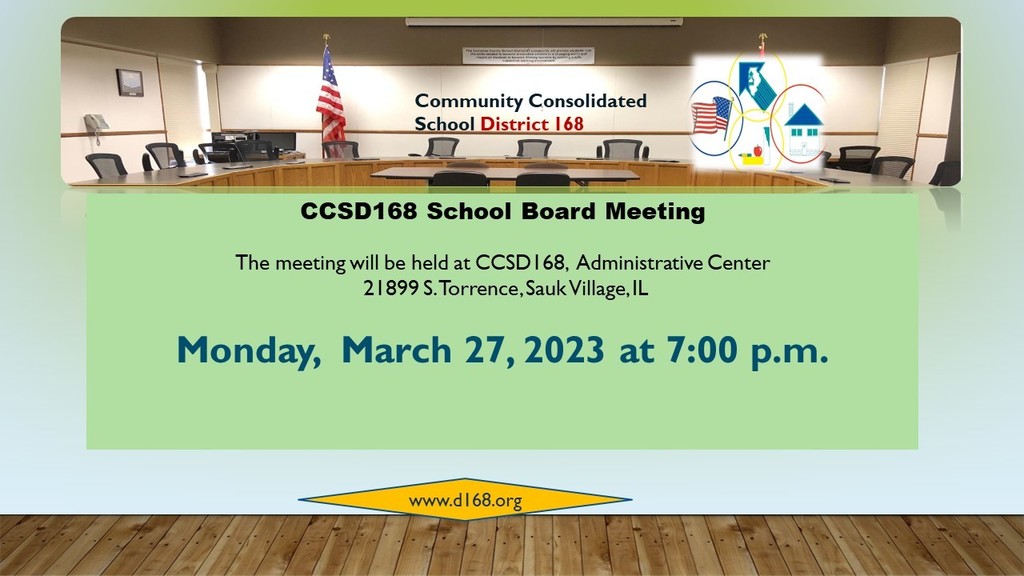 #d168excels-Spring Break March 20-March 24, 2023 (No school and our offices are closed). Classes resume Monday, March 27, 2023.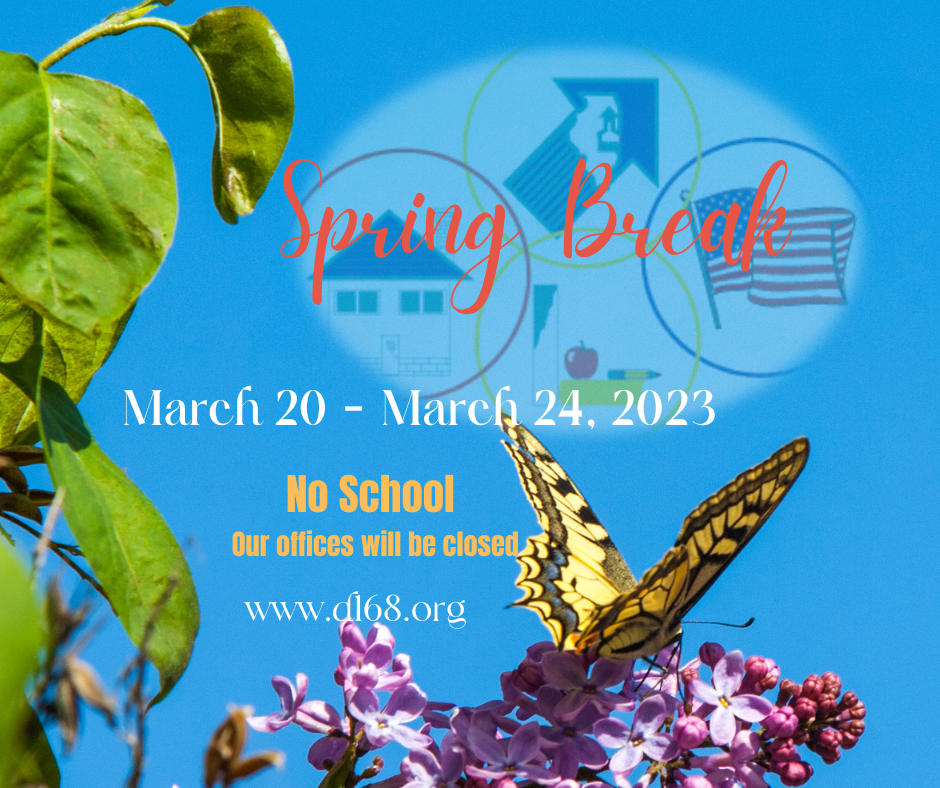 #d168excels-Happy St. Patrick's Day CCSD 168!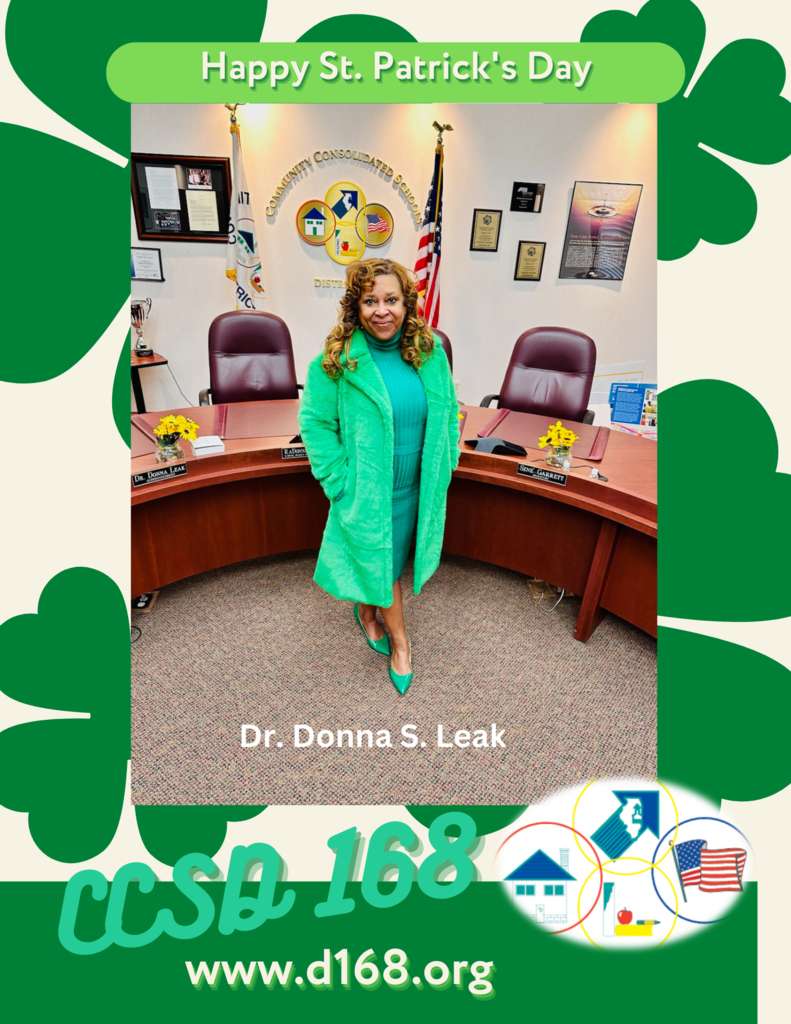 #d168excels - E-Learning Day (State Elections) - CCSD 168 Students will attend school virtually on Tuesday, April 4, 2023.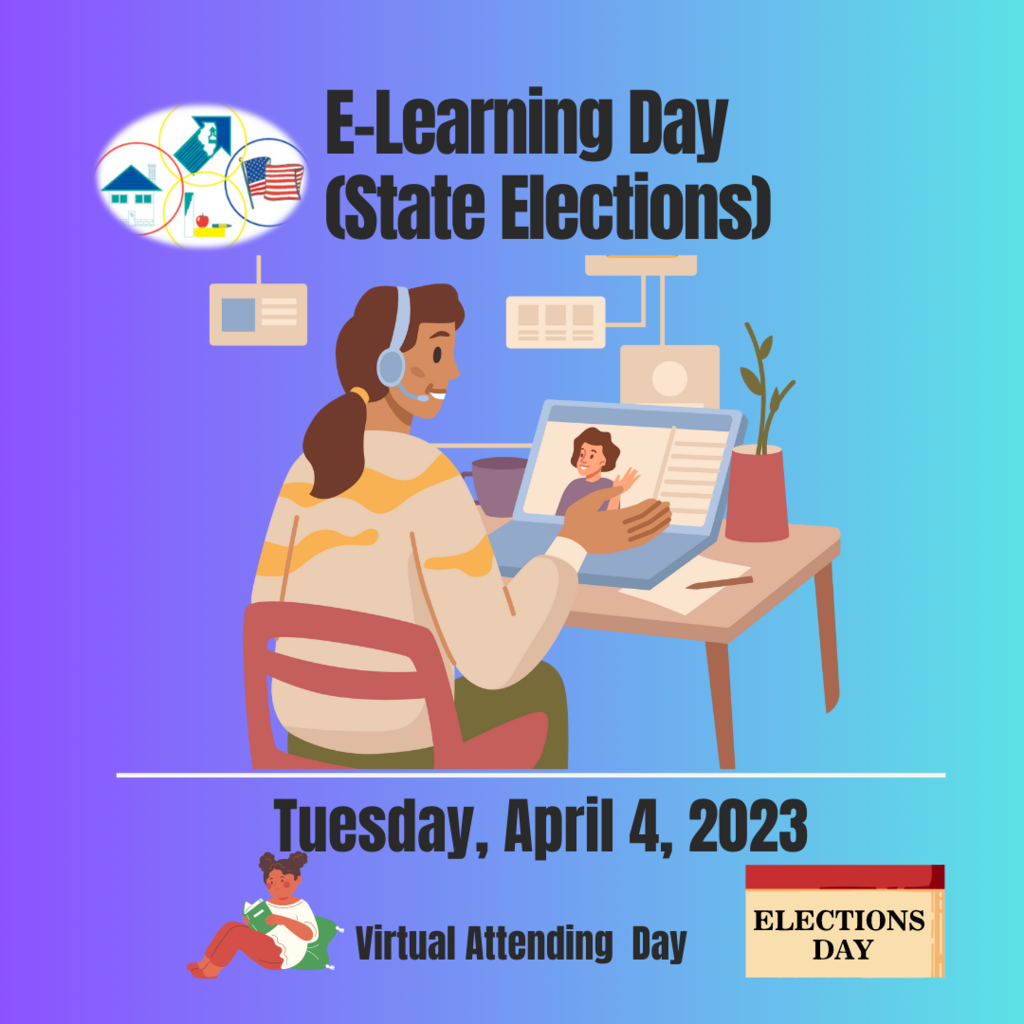 #d168excels - ​CCSD 168 Community Chat - Tuesday, March 28, 2023 at 5:00 p.m. - Share ideas, concerns, and thoughts on how we can make CCSD 168 even better for your children! - Join us at the Administrative Center - 21899 S Torrence Ave - Sauk Village, IL 60411 - We hope to see you there!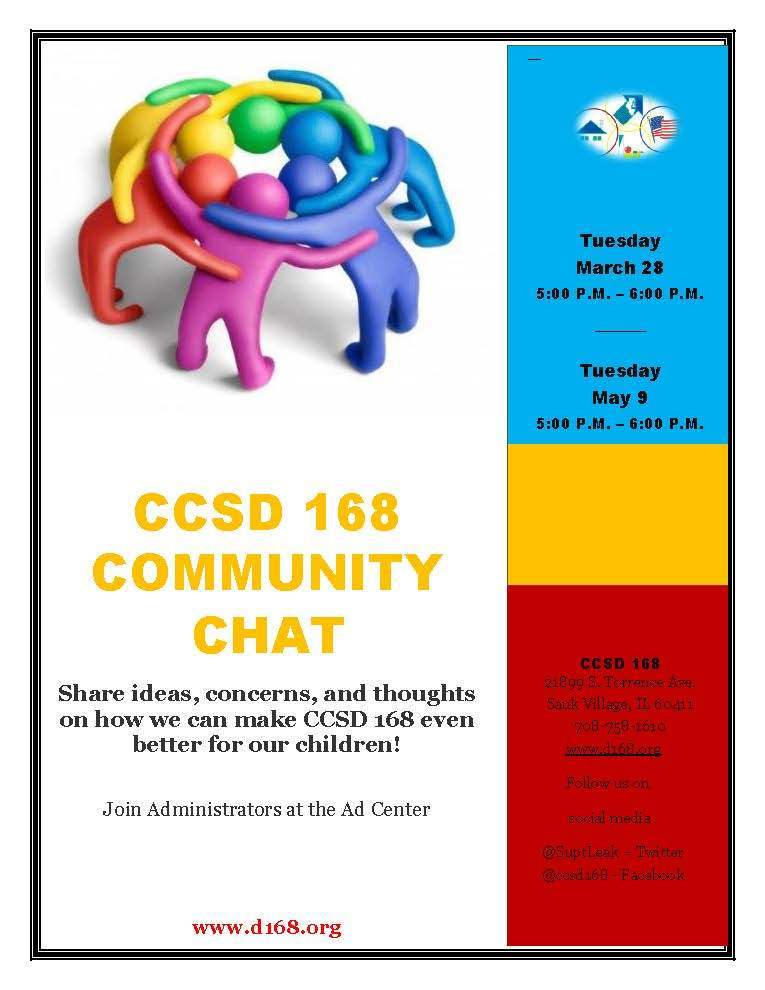 #d168excels - ​What Did You Eat At School Today? Wednesday, March 15, 2023 Student Meals: - Breakfast - -Blazin' Banana Bread -100% Juice -Daily Milk - Fat Free Milk -Milk 1%, low fat, 8 fl oz. -Chocolate Low Fat Milk -Strawberry Milk -Cereal Option Offered Daily - - Lunch - -Cheesy Confetti Spaghetti -Broccoli -WG Dinner Roll -Seasonal Fruit -Milk & Condiments - Fat Free Milk - Milk 1%, low fat, 8 fl oz. -Strawberry Milk -Chocolate Low Fat Milk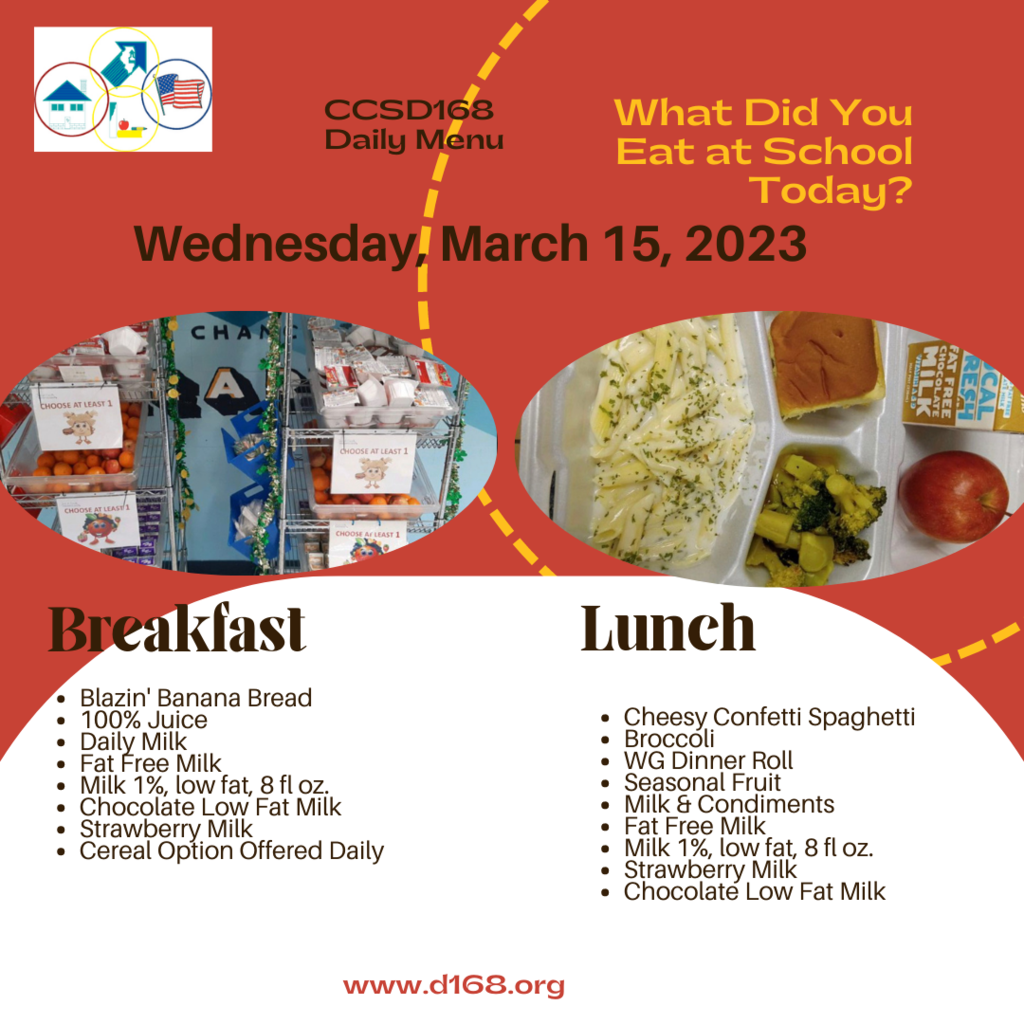 #d168excels - Student Led Parent Teacher Conferences - Thursday, March 16, 2023 (3:30 - 6:30 p.m.) Friday, March 17, 2023 (8:30 - 11:30 a.m.).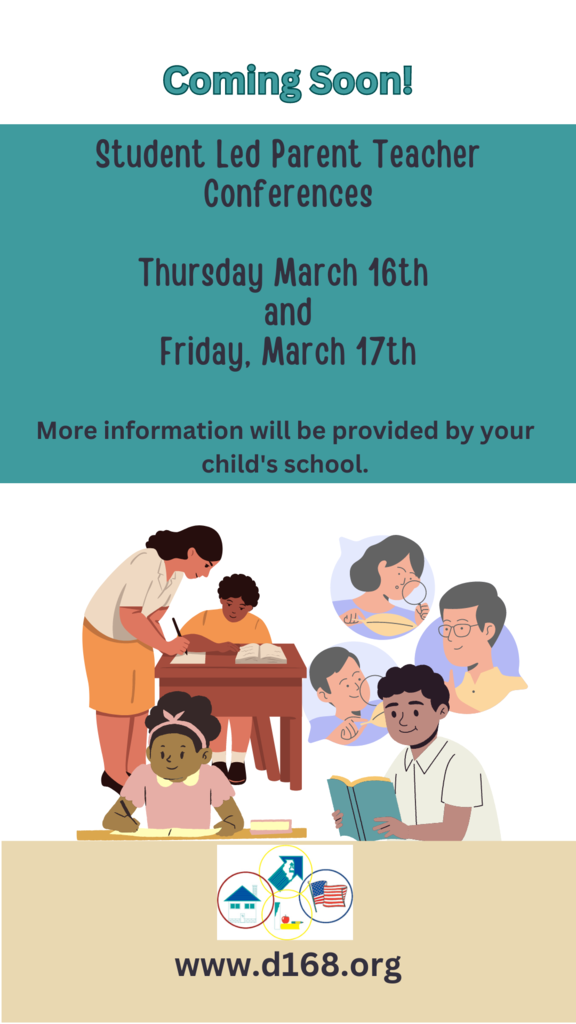 #d168excels - ​CCSD 168 8th Annual Job Fair Saturday, April 15, 2023 9:00 a.m. - 12:00 p.m. Rickover Jr. High School 22151 Torrence Avenue Sauk Village, IL 60411 REGISTER TODAY at
https://forms.gle/eMP6sCgzZg14PeJw8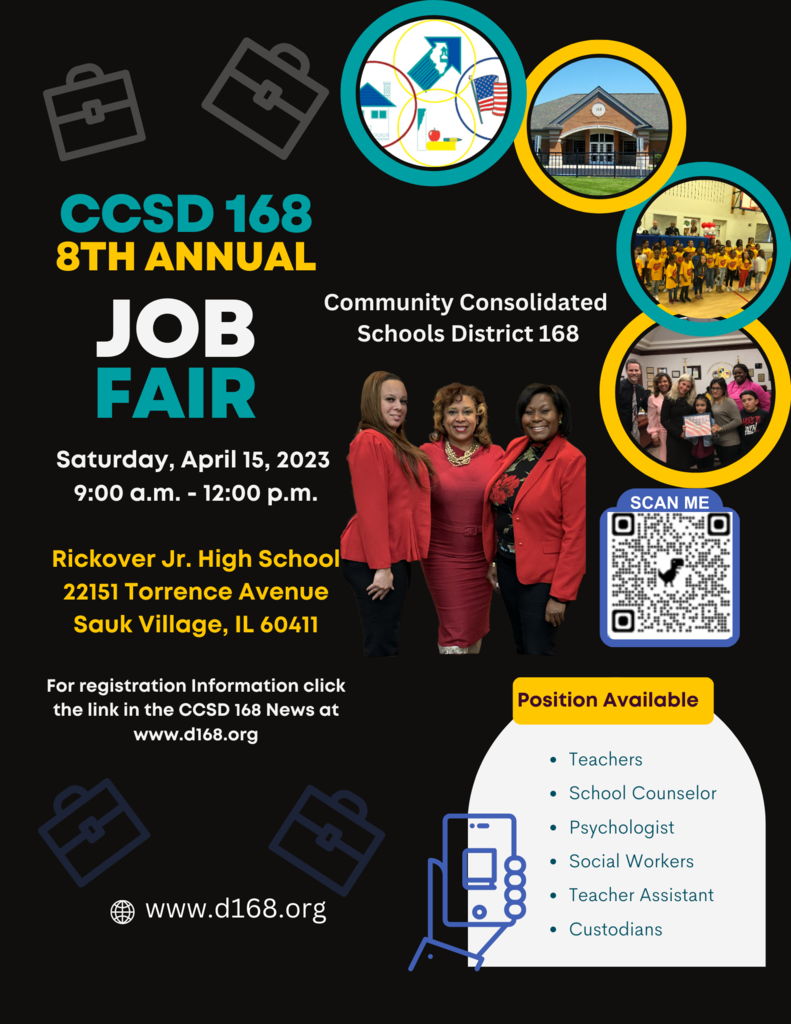 #d168excels - CCSD 168 PTO Fundraiser District #168 PTO Presents: The Domino's Fundraiser! Support CCSD 168 PTO by buying a Slice the Price card! Check out our group's store here!
www.Dominos.cards/38511
Please purchase from our store and the cards will be shipped directly to you. It's that easy to support the PTO! THE SLICE THE PRICE CARD We are selling the Domino's Slice the Price Card! ·The STP card is good for buy a large pizza, get a large pizza FREE! ·It sells for $15.00. ·Use the card as much as you want until Sunday, December 31, 2023. Learn more and keep track of your sales on your dashboard!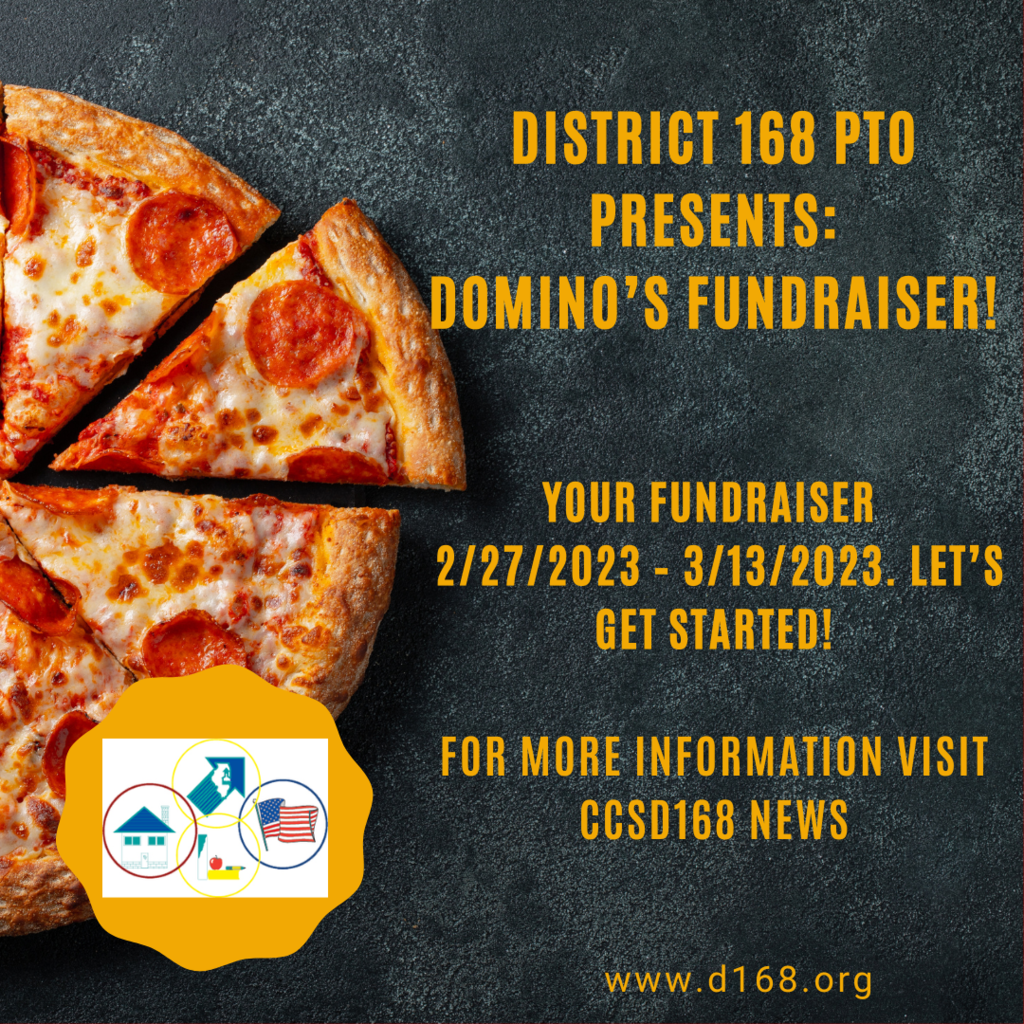 #d168excels - Want to Help Support and Assist CCSD 168 Families ​? In response to the February 21st NBC Morning News Broadcast, D168 Is Accepting Donations for Our Families Whether Large or Small. Clothing, Shoes, Household Goods, and Monetary Donations are Welcomed. ​Please Direct All Donations or Inquires to: Ms. Mazzarri at CCSD 168 Ad Center 21899 Torrence Ave Sauk Village, IL 60411 708-758-1610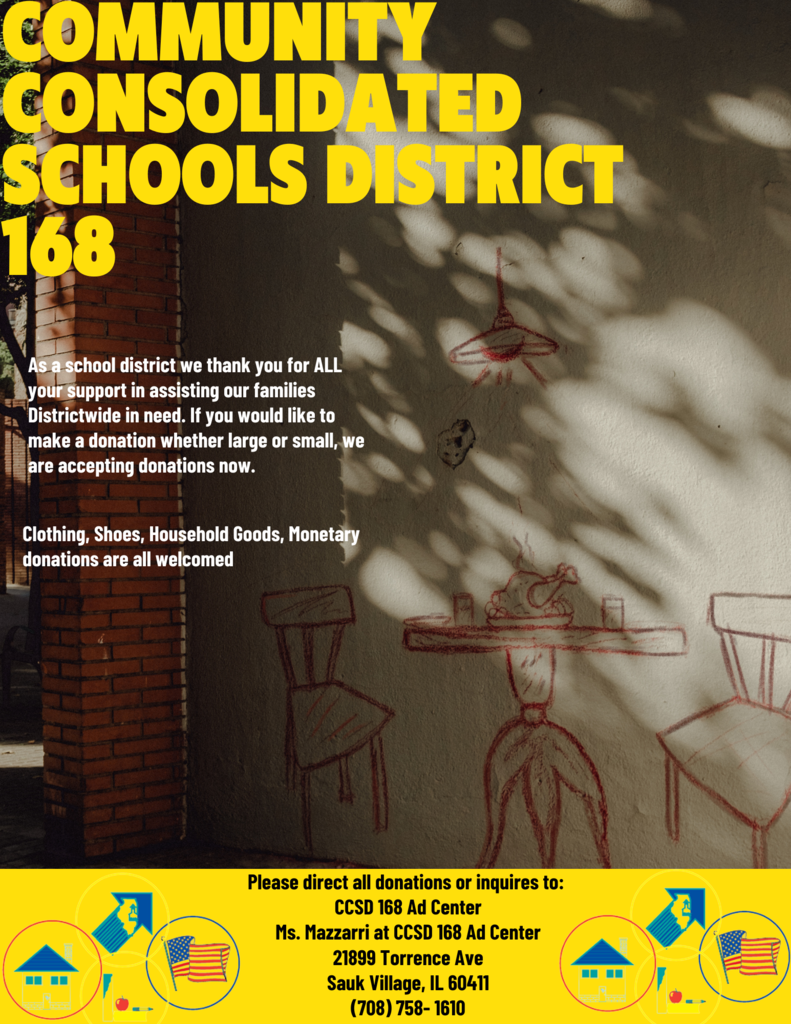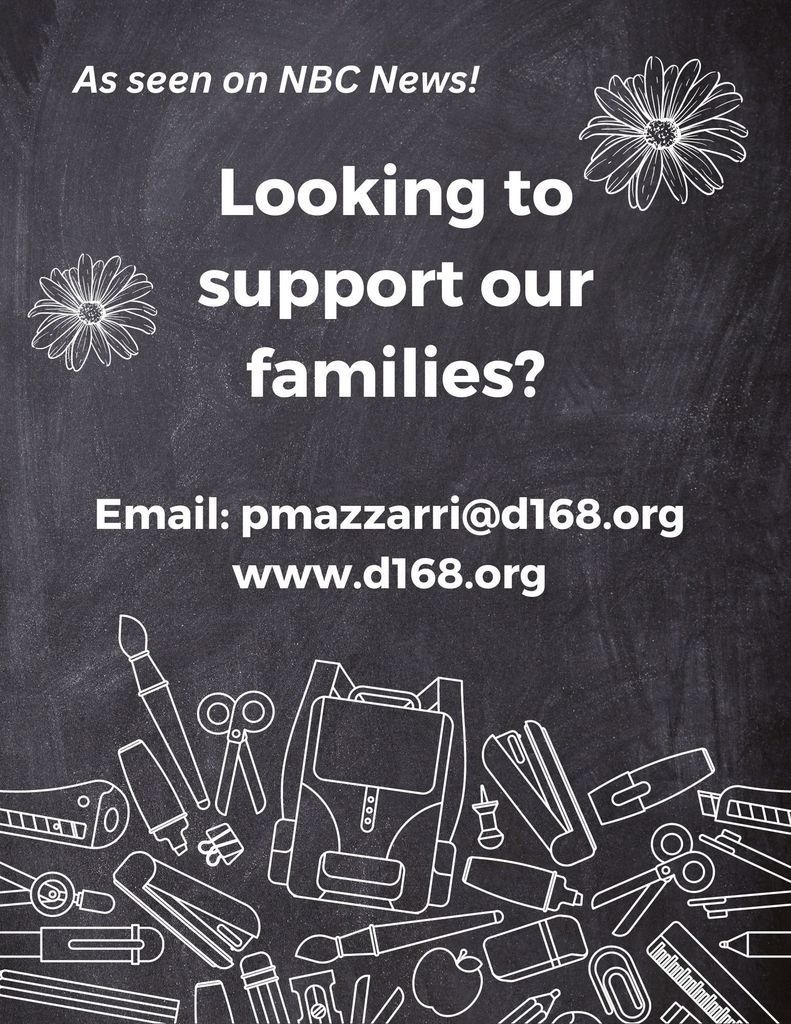 #d168excels - ​Transtorno por Déficit Atención e Hiperactividad - Presentado por el Equipo de Bienestar D168 - Cuándo: miércoles, 22 de febrero a la 1:00 PM - Dónde: Virtualmente a través de Google Meets. ¡Simplemente escanee el código QR para acompañarnos el día del evento! Si tiene alguna pregunta antes de que podamos reunirnos, comuníquese con el equipo de bienestar de Waggoner al 708-758-3322.
www.d168.org​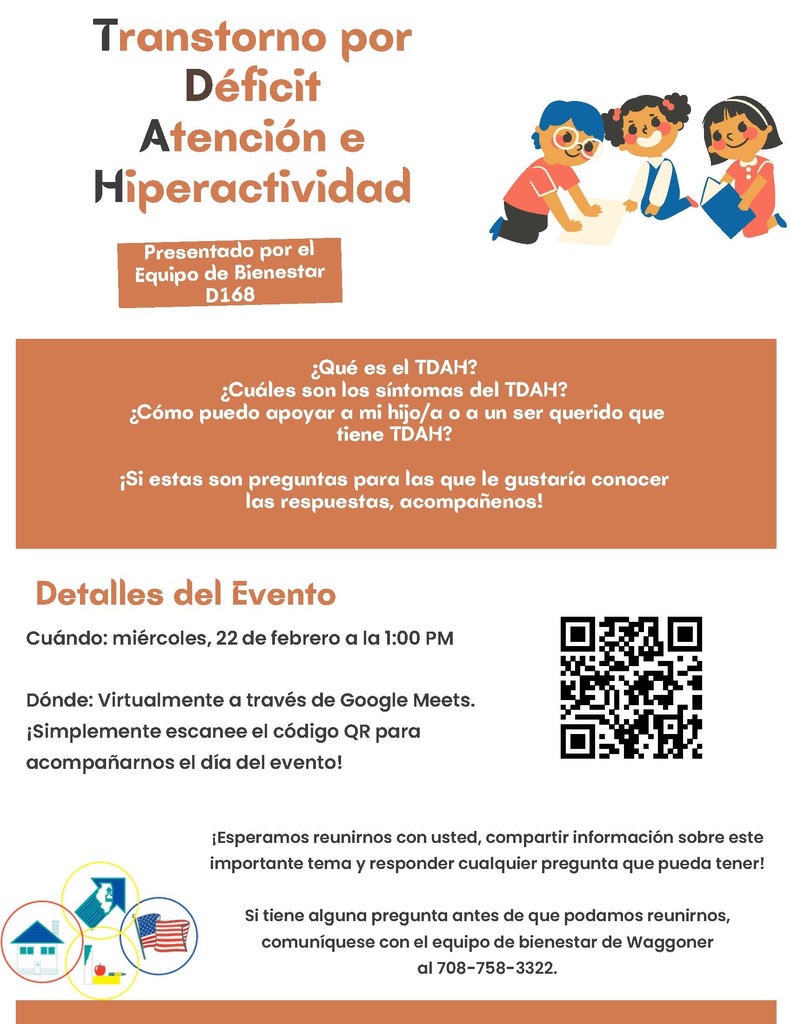 #d168excels - ​FREE Admission to SHEDD Aquarium​ - Tickets need to be secured ahead of a visit by booking online at sheddaquarium.org/plan-a-visit or over the phone by calling 312-939-2438.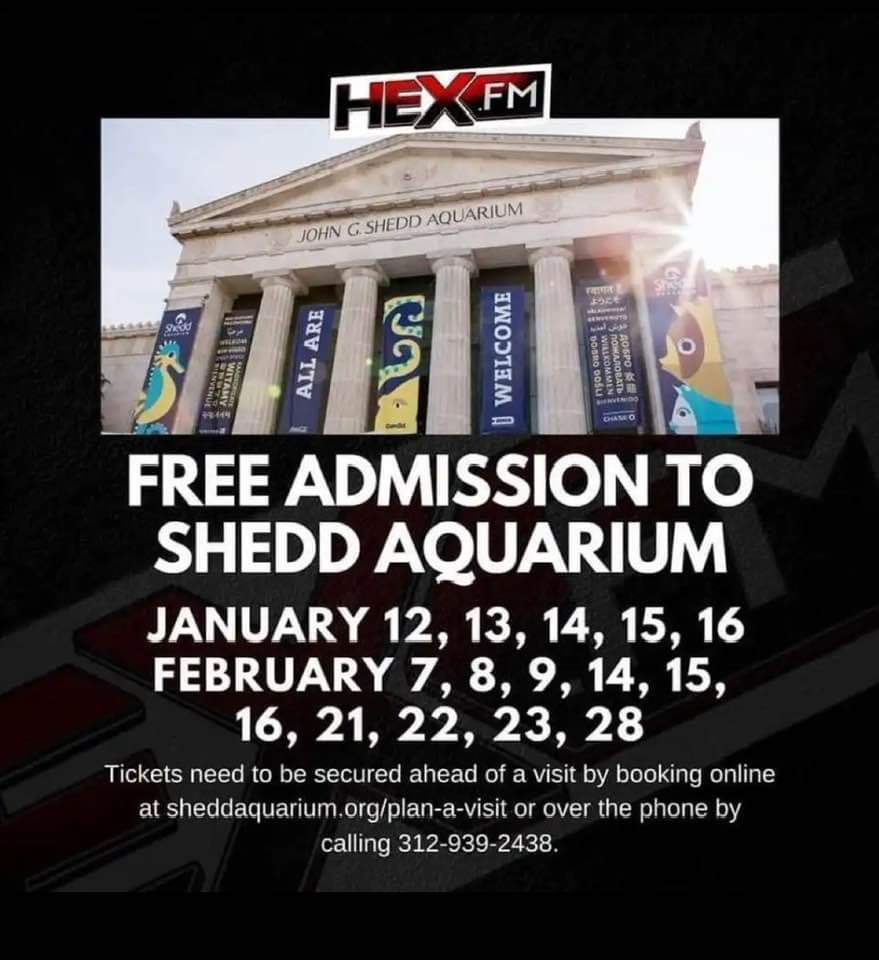 #d168excels - Free Beds for Children - Sleep in Heavenly Peace We fully believe that a bed is a basic need for the proper physical, emotional, and mental support that a child needs. When it was brought to our attention that the need for beds went far beyond our own neighborhoods, we stepped up and took initiative. Click the link
https://shpbeds.org
to learn how to apply. All children deserve a safe, comfortable place to lay their heads. Beds come with mattress, sheets, pillow and comforter. Either a bunk bed or a twin bed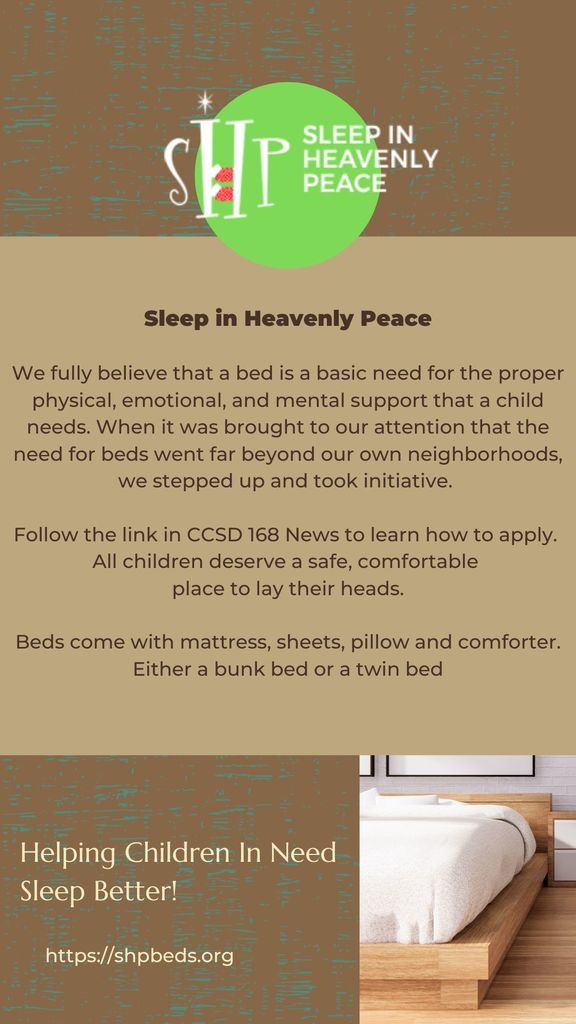 #d168excels - School Calendar Update: School Improvement Days are 1/2 Day School Attending Days: Friday - January 27, 2023; Friday - February 17, 2023; Thursday - April 27, 2023; and Friday - May 12, 2023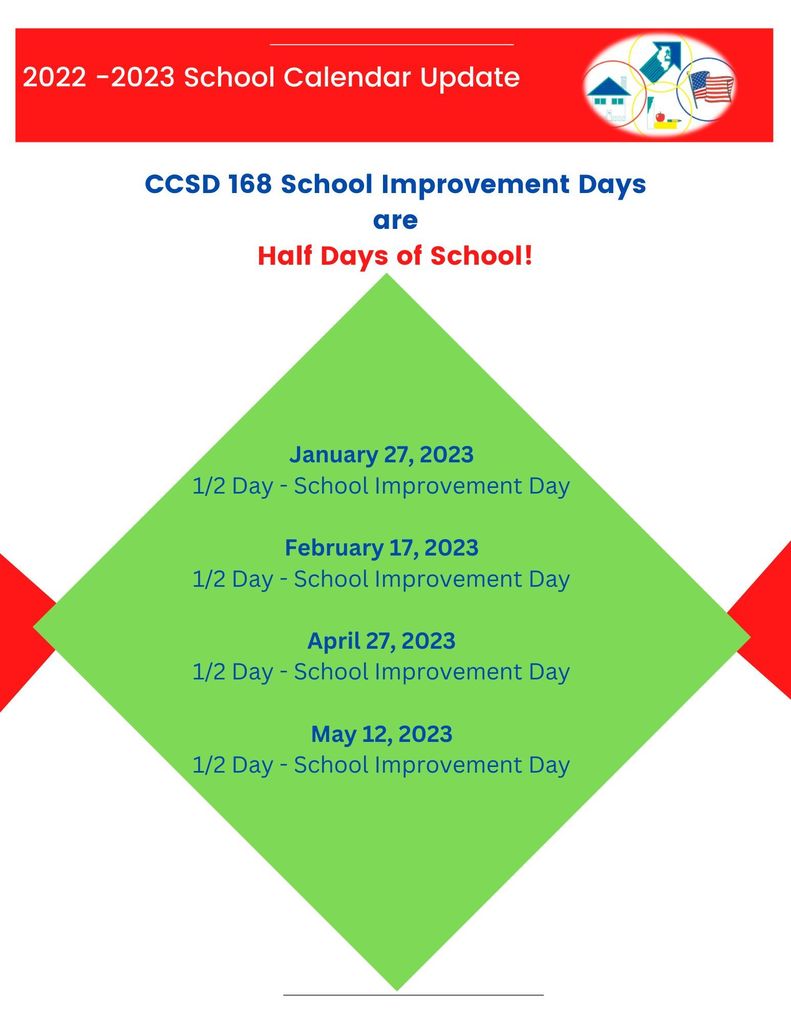 #d168excels - Interested in an employment opportunity? Become a Paraprofessional. Apply online at
www.d168.org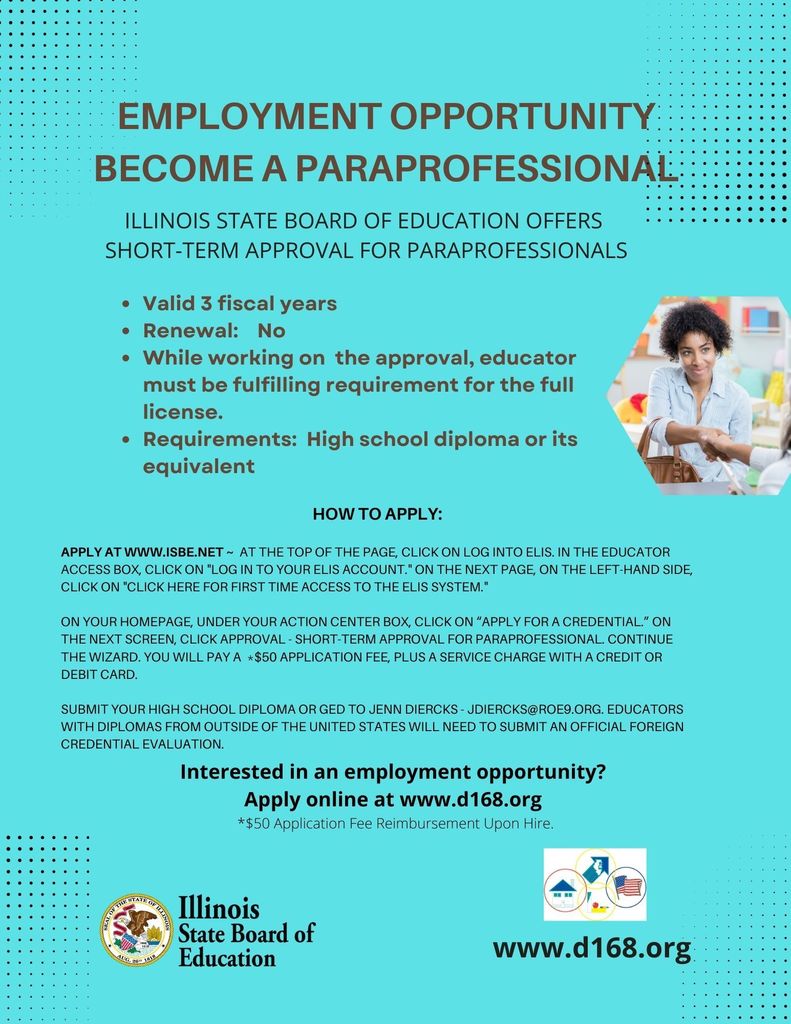 #D168excels - BECOME A PARAPROFESSIONAL - ILLINOIS STATE BOARD OF EDUCATION OFFERS - SHORT-TERM APPROVAL FOR PARAPROFESSIONALS-
www.d168.org
Valid 3 fiscal years Renewal: No While working on the approval, educator must be fulfilling requirement for the full license. Requirements: High school diploma or its equivalent HOW TO APPLY: 1. APPLY AT
WWW.ISBE.NET
~ AT THE TOP OF THE PAGE, CLICK ON LOG INTO ELIS. IN THE EDUCATOR ACCESS BOX, CLICK ON "LOG IN TO YOUR ELIS ACCOUNT." ON THE NEXT PAGE, ON THE LEFT-HAND SIDE, CLICK ON "CLICK HERE FOR FIRST TIME ACCESS TO THE ELIS SYSTEM." 2. ON YOUR HOMEPAGE, UNDER YOUR ACTION CENTER BOX, CLICK ON "APPLY FOR A CREDENTIAL." ON THE NEXT SCREEN, CLICK APPROVAL - SHORT-TERM APPROVAL FOR PARAPROFESSIONAL. CONTINUE THE WIZARD. YOU WILL PAY A *$50 APPLICATION FEE, PLUS A SERVICE CHARGE WITH A CREDIT OR DEBIT CARD. 3. SUBMIT YOUR HIGH SCHOOL DIPLOMA OR GED TO JENN DIERCKS EMAIL AT
JDIERCKS@ROE9.ORG
. EDUCATORS WITH DIPLOMAS FROM OUTSIDE OF THE UNITED STATES WILL NEED TO SUBMIT AN OFFICIAL FOREIGN CREDENTIAL EVALUATION. Interested in an employment opportunity? Apply online at
www.d168.org
*$50 Application Fee Reimbursement Upon Hire. ​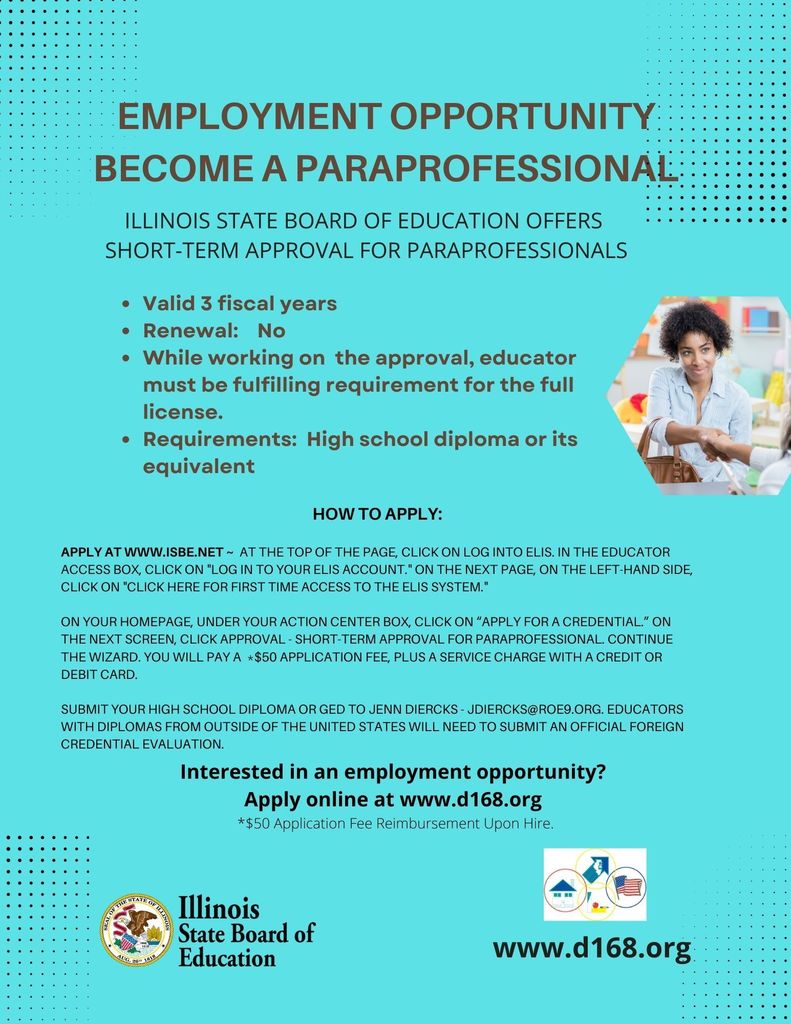 #d168excels - ​Crisis Program for Water and Wastewater - Customers may receive a benefit of up to $1,500 total for: Reconnection Assistance - Disconnection Prevention - Past Due Balance - Disconnection Fees - Late Fees - Apply today by call 800-571-2332 or visit CEDAorg.net/sites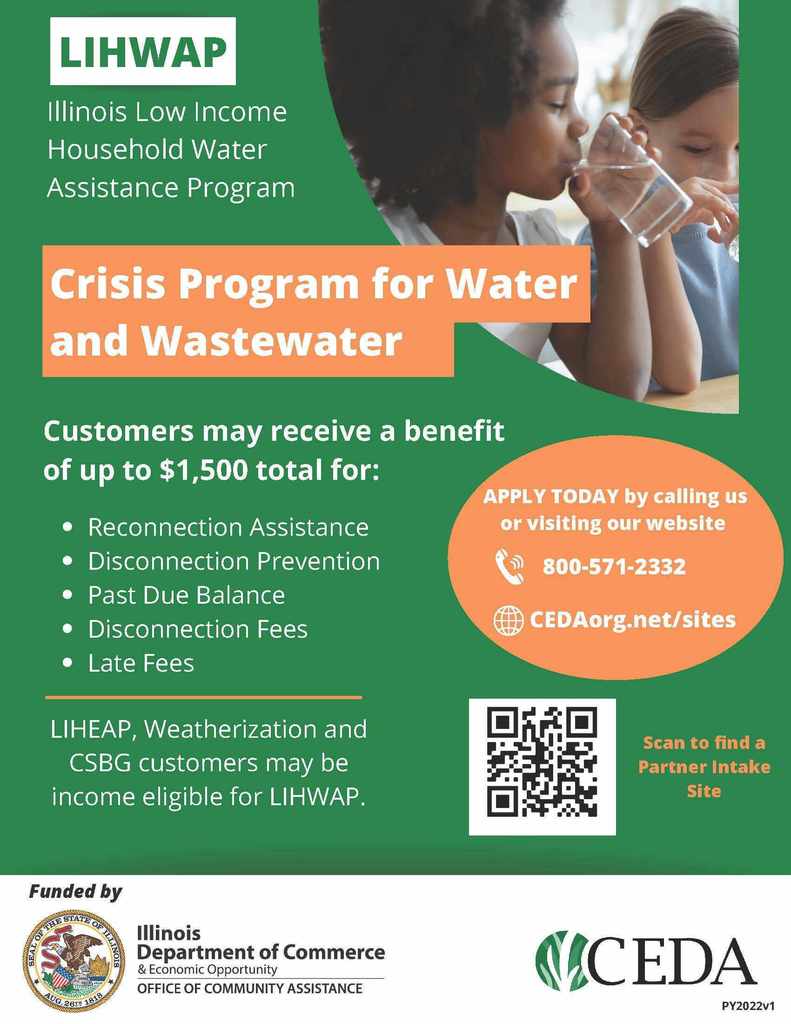 #d168excels - THIS WEEK IN THE NEWSLETTER: Warm Coats for Strassburg - Holiday Break Groceries for CCSD 168 Families - Winter Break - December 22, 2021 to January 5, 2022 - No School for Students - School Board Meeting Highlights - Strassburg Winter Program - COVID-19 Dashboard - Rickover – Message from Principal Bullock - Strassburg- Message from Principal Camilleri - Wagoner – Sing-A-Long Blossoms – -Blossoms Newsletter - CCSD 168 Calendar of Events - Community Calendar of Events - This Week in the newsletter: Click the link to watch
https://5il.co/13i4x
Click the link to read
https://5il.co/13i4y